APAKAH AKTIVITAS HITUNG GERAKAN JANIN MEMICU KECEMASAN IBU HAMIL?
Keywords:
kecemasan, hitung gerakan janin, kunjungan antenatal
Abstract
Background: Fetal movement count was developed as a self-screening activity for pregnant women to monitor fetal activity, to monitor decrease fetal movement, and finally reduce perinatal mortality. However, this activity may trigger anxiety in pregnant women and increase unnecessary antenatal visits. Aims: to identify the change of anxiety among pregnant women who perform fetal movement count. Methods: this study used a pre-experimental design to measure the level of anxiety among 33 pregnant women with gestational age renge from 28 to 37 weeks who perform daily fetal movement count for 3 weeks. Maternal anxiety was measured with the Beck Anxiety Inventory in 4 periods, namely before intervention, soon after intervention, after 2 weeks of intervention, after 3 weeks of intervention and analyzed using Friedman test. Results: there was a significant change in anxiety level among pregnant women after performing fetal movement count (p<0,001), expecially soon after intervention (p-0,001) and 3 weeks after intervention (p=0,001). Conclusion: counting fetal movement reduces anxiety among pregnant woment at the last trimester. The schedule of antenatal visit among pregnant women does not change after fetal movement counting. Further researches are needed to assess the influence of fetal movement counting on other pregnancy outcomes, including perinatal mortality.
Keywords: anxiety, fetal movement count, antenatal visits.
References
Ablove, R.H., Ablove, T.S. (2009). Prevalence of Carpal Tunnel Syndrome in Pregnant Women. WISCONSIN MEDICAL JOURNAL, 108(4), 194-196.
Bayrampour, H., Ali, E., McNeil, D. A., Benzies, K., MacQueen, G., & Tough, S. (2016). Pregnancy-related anxiety: A concept analysis. Int J Nurs Stud, 55, 115-130. doi: 10.1016/j.ijnurstu.2015.10.023
Beck, Aaron T., Epstein, Norman, Brown, Gary, & Steer, Robert A. (1988). An inventory for measuring clinical anxiety: Psychometric properties. Journal of Consulting and Clinical Psychology, 56(6), 893-897. doi: 10.1037/0022-006X.56.6.893
Delaram M, Shams S. (2016). The effect of foetal movement counting on maternal anxiety: A randomised, controlled trial. Journal of Obstetrics and Gynaecology 36(1), 39-43. doi: 10.3109/01443615.2015.1025726
Dunkel Schetter, C., & Tanner, L. (2012). Anxiety, depression and stress in pregnancy: implications for mothers, children, research, and practice. Curr Opin Psychiatry, 25(2), 141-148. doi: 10.1097/YCO.0b013e3283503680
Flenady, V., MacPhail, J., Gardener, G., Chadha, Y., Mahomed, K., Heazell, A., . . . Froen, F. (2009). Detection and management of decreased fetal movements in Australia and New Zealand: a survey of obstetric practice. Aust N Z J Obstet Gynaecol, 49(4), 358-363. doi: 10.1111/j.1479-828X.2009.01026.x
Gibby, N.W. (1988). Relationship Between Fetal Movement Charting and Anxiety in Low-Risk Pregnant Women. Journal of Nurse-Midwifery, 33(4), 185-188.
Grant A, Valentin L, Elbourne D, Alexander S. (1989). Routine Formal Movement Counting and Risk of Antepartum Late Death in Normally Formed Singletons. The Lancet, 2, 345-349.
Heazell, A. E., Green, M., Wright, C., Flenady, V., & Froen, J. F. (2008). Midwives' and obstetricians' knowledge and management of women presenting with decreased fetal movements. Acta Obstet Gynecol Scand, 87(3), 331-339. doi: 10.1080/00016340801902034
Liston, R. M., Bloom, K., & Zimmer, P. (1994). The psychological effects of counting fetal movements. Birth, 21(3), 135-140. doi: 10.1111/j.1523-536x.1994.tb00512.x
Mangesi, L., Hofmeyr, G. J., Smith, V., & Smyth, R. M. (2015). Fetal movement counting for assessment of fetal wellbeing. Cochrane Database Syst Rev(10), CD004909. doi: 10.1002/14651858.CD004909.pub3
Neldam, S. (1986). Fetal Movements as An Indicator of Fetal Wellbeing. The Lancet.
Saastad, E., Winje, B. A., Stray Pedersen, B., & Froen, J. F. (2011). Fetal movement counting improved identification of fetal growth restriction and perinatal outcomes--a multi-centre, randomized, controlled trial. PLoS One, 6(12), e28482. doi: 10.1371/journal.pone.0028482
Saastad, E. Winje B.A., Israel, P., Frøen, J.F. (2012). Fetal Movement Counting—Maternal Concernand Experiences: A Multicenter, Randomized,Controlled Trial. Birth, 39(1), 10-20.
Samutri, Erni, & Endriyani, Lia. (2020). Fetal Movement Counting and Maternal Anxiety: A Systematic Literature Review. ASIA-PASIFIC PARTNERSHIP ON HEALTH AND NUTRITIONAL IMPROVEMENT 2020.
Soma-Pillay, P., Nelson-Piercy, C., Tolppanen, H., & Mebazaa, A. (2016). Physiological changes in pregnancy. Cardiovasc J Afr, 27(2), 89-94. doi: 10.5830/CVJA-2016-021
Tveit, J. V., Saastad, E., Stray-Pedersen, B., Bordahl, P. E., Flenady, V., Fretts, R., & Froen, J. F. (2009). Reduction of late stillbirth with the introduction of fetal movement information and guidelines - a clinical quality improvement. BMC Pregnancy Childbirth, 9, 32. doi: 10.1186/1471-2393-9-32
Velazquez, M.D, & Rayburn, W.F. (2002). Antenatal Evaluation of the Fetus Using Fetal Movement Monitoring. Clinical Obstetrics and Gynecology, 45(4), 993-1004.
WHO. (2016). WHO recommendations on antenatal care for a positive pregnancy experience.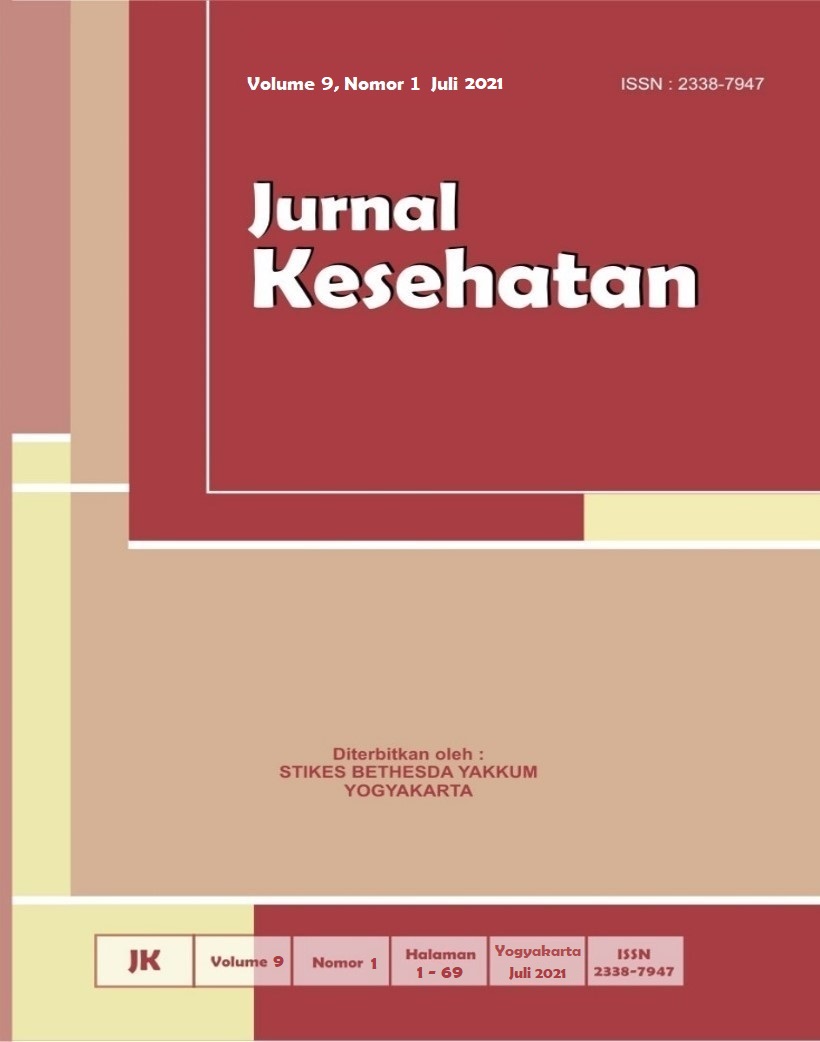 Downloads